Structural steel shapes provide support to buildings of all kinds. They're integral to weight distribution and ensure the integrity, safety, and durability of buildings.
In addition to being characterized by their shape, structural steel shapes vary in their mechanical, and chemical qualities, which also play a role in determining how they are used and when. Kloeckner Metals stocks structural channels, structural tubes, structural angles, structural beams, and structural plate and can customize any and all to customer specification.
What Is Structural Steel
Structural Steel is a high utility building material that is made of a versatile type of carbon steel that's available in a range of metal grades. Uses span everything from bridges to residential and commercial constructions, from parking garages to machine bases.
The Advantage of Structural Steel
There are many reasons structural steel is a critical component for thousands of buildings around the world.
Cost effectiveness.

Overall costs including erection, material, and fabrication are lower than other building systems and do not experience diminishing return.

Accelerated schedules.

Off-site fabrication supports quick construction, even in adverse weather conditions.

Increased usable floor space.

Design flexibility makes open spaces possible.

Aesthetically pleasing.

Pliability offers designers many options to create beautiful spaces.

Future adaptability.

Existing steel frames can be repurposed.

Quality and predictability.

Off-site fabrication and delivery accelerate building schedules.

Ease of design.

Consistent strength levels simplify the design process.

Enhanced productivity.

A fully integrated supply chain and advanced technology reduce error, lower cost, and improve safety.

Green.

As much as 93% of structural steel produced in the United States is recycled and will continue to be recyclable.

Solutions abound.

Structural steel can adapt to resolve project challenges, wherever they may arise.
Structural Steel Shapes
Though structural steel shapes can be customized, they usually fall into one of four categories: beams, angles, channels, or plates. Each shape has defining features and optimal applications.
Structural Steel Angles
Structural steel angles is a hot rolled product with an L-shaped cross-section that's appropriate for a number of applications. A standard structural angle is 90 degrees and is measured by the length of the legs as well as the leg thickness.
L-shapes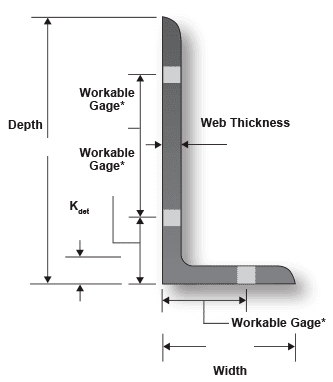 L-shapes are produced with both equal and unequal leg lengths. When notating unequal leg angles in measurement, the longer leg is always first, and thickness last. All measurements are always taken from the outside.
Applications include structural reinforcement, framework, shelving, and repair.
Structural Steel Tubing – Hollow Structural Sections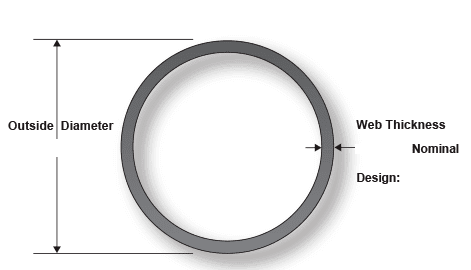 Hollow structural section (HSS) refers to high-strength welded steel tubing. Sometimes referred to as hollow steel sections, they are produced in round, square, and rectangular shapes that support multidirectional load bearing. As the name suggests, regardless of shape, the mid-sections are hollow.
Tubes are a hollow steel shape that can be further distinguished as either mechanical or structural tubing. Mechanical tubing is used in low-stress applications and is characterized by a thinner wall. Structural tubing is designed for high-stress structural applications in bridges, buildings, roll cages, and underwater platforms. The walls are thicker and stronger.
Pipes are another hollow structure that is intended to carry liquids, gasses, or even solids. Its wall thickness is described by its schedule, which is a system created by the American Standards Association.
Structural Steel Beams
Structural steel beams are the basis of support. The basic design is built to handle a maximum bending load with minimum material.
Beams have a flat top and bottom, called flanges (sometimes, legs). Often these flanges taper. The vertical section of the beam is called the web. The web is built to resist blunt force, while flanges resist bending. The angle which connects the web to the flanges is called the fillet.
Beams are identified by their depth, which is the distance from the top to the bottom; flange width, which is the length of the horizontal flanges; flange thickness; and web thickness.
I-beams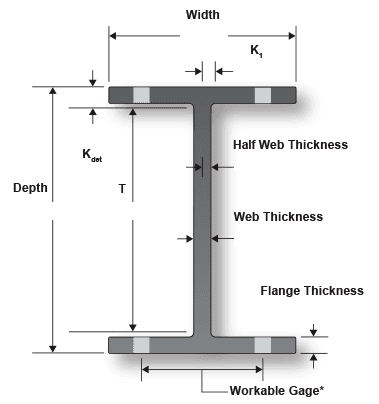 I-beams are sometimes called the universal beam or wide flange beams. The name describes the shape of the cross-section and legs that are parallel. I-beams act as the critical support trusses in construction framework.
S-beams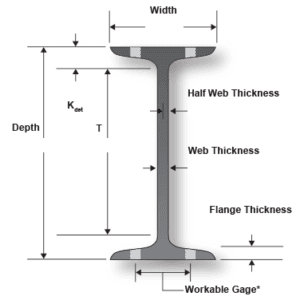 S Beams are designed to offer superior strength with wider flanges that have a slope on the inside surface. They are used in home and building construction, truck bed frames, hoists, lifts, and more.
T-beams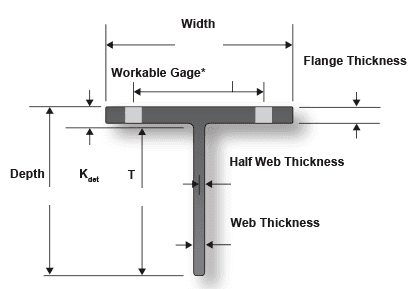 T-beams have a T-shape, like the universal beam but without a bottom flange. T-beams are best for reinforcement, as they do not resist bending to bear equal weight as well as the I-beam.
Bearing Piles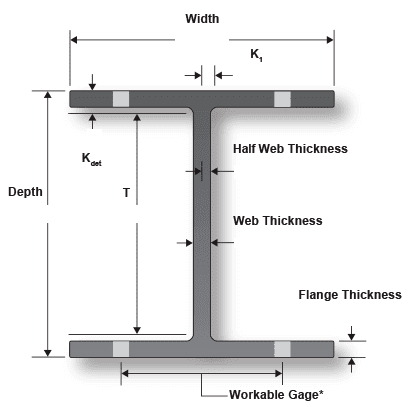 Bearing piles are similar to I-beams in that they have the same shape. However, bearing piles have uniform thickness across all sections. They are primarily used to support vertical loads.
H-piles
H-piles have the same I-shape but are often placed in the ground to provide deep foundation support for superstructures.
Structural Steel Channels
Structural channels are a hot-rolled product with a C-shaped cross-section with various construction and manufacturing applications. They are identified by channel depth, the distance from top to bottom; leg height; leg thickness; and web thickness.
C-channels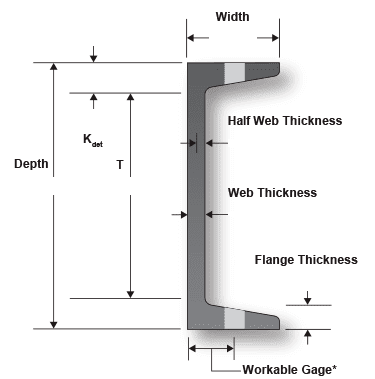 C-channels have a slight slope on the inner flange surface. They are not typically applied as primary load-bearing beams. Rather, they provide a great amount of structural support, most useful as frames and for bracing.
Structural Steel Plates
Plates are flat and are produced in a variety of thicknesses to meet construction needs where durability and weight-savings is necessary. Structural steel is usually welded to build the framework for buildings and bridges. Structural steel welders will cut and restore metal beams, columns, and girders.